Silicon Valley Black Chamber May Newsletter
May 4, 2018
SVBCC Newsletter
Silicon Valley Bank Sponsorship, Black Female Inventor, Awards Ceremony, Next Gen Youth, Member Profile, Events and more...

Silicon Valley Bank takes the lead in supporting our Blacks 'n Business Blacks 'n Technology Awards Ceremony.
Having previously been a Silver supporter at our last ceremony, Silicon Valley Bank has now become our lead Platinum Sponsor
as part of their commitment to servicing our community.
Whet
her yo
u are a business or an individual, Silicon Valley Bank can help you reach your financial goals.
Come into a branch office and talk to a representative and tell them you heard it from our black chamber of commerce.
One of our members, Channon Kennedy works at Silicon Valley Bank and led an effort to get her bank more involved with our chamber. Volunteers and other opportunities appear ready to blossom. If you would like to work for them or open an account, come and connect with their staff at our Blacks 'n Business Blacks 'n Technology Awards Ceremony
this Saturday
.

Blacks 'n Business Blacks 'n Technology
Awards Ceremony
Towanda Yancy, scientist, engineer and inventor honored at the 2018 Blacks 'n Business Blacks 'n Technology Awards Ceremony
We are proud to recognize, honor and award Ms Towanda Yancy with the Silicon Valley Black Chamber of Commerce's "Excellence in Technology" award, an award named in honor of Roy Clay Sr. himself.
Like Roy Clay Sr or "Hidden Figures" (the movie) many don't know the accomplishments of African Americans in the sciences and technology fields.
Come see and hear the stories of not just what these pioneers have done, but HOW they did it.
It promises to be uplifting and encouraging, so bring someone you would want to hear about the history that will propel them into the future.
Tickets purchased on-line ONLY until

Friday

5pm.
(NO Tickets sold at door)
Bank of America joins Comerica Bank in judging this year's Next Generation Business Academy business plan finals presentations.
Next Gen teaches business and financial literacy to high school students on the East Side of San Jose.
This program has been in existence since 2004. As the brainchild of former chamber president, Joel Wyrick, and taught by Silicon Valley Grant Writer, William Wheat, Next Gen elevates student's business knowledge while teaching financial independence through better management of their personal finances. These skills necessary to be competitive in this truly global economy.
If you would like to participate as a volunteer or just want to learn more about Next Gen give us a call

408-288-8806

or click volunteer link below (link)
| | | |
| --- | --- | --- |
| | | |
| Chamber pres, Carl Davis Jr and Independence High School teacher Rudy Marquez | Judges viewing business plan presentation. Winner of our NGBA goes on to NFTE regional. | Jesse Blount (Morgan Stanley), Andree Driskell (consultant), Aimbrell Shanks (100 Black Women) and Josh Russell) Bank of America |

ONE DEGREE OF SEPARATION (ODOS)
ODOS provides resources, expertise,and partnerships that are not readily available or accessible to African Americans through mainstream travel resources, domestically and around the world.
Our goal is to empower, educate, and connect through social media,networking, travel, and events. We are not a travel agency but a travel network of resources targeting, but not limited to, the African American and ethnic specific communities.

Potential City Council Member speaks out
Shay, Shanta Franco-Clausen running for San Jose City Council position, read why

Silicon Valley Business Connections
"Where Your Success comes from Your Connections"
Saturday
and
Sunday
afternoon join Chamber president Carl Davis Jr and producer and Co-Host Karl Welch, "Big Papa" as they keep you "Connected" with what's happening here in Silicon Valley that could effect you. Whether it's Education, Philanthropy. Sports, etc..., it's all about Business!
Click
Podcast
to Hear past
special guests
like,
Shellye Archambeau, former CEO MetricStream

San Jose City Councilman Charles
"Chappy" Jones
Chike Nwoffiah Founder and Producer African Film Festival
Congressman
Ro Khanna
Aubry Stone - Chairman of US Black Chamber of Commerce
California Secretary of State Alex Padilla
Call our chamber and let us know your thoughts on our interviews.

408-288-8806

Maybe you even have some suggestions on who would be a great guest.


Remember "Stay Connected" and listen to Silicon Valley Business Connections


Out of the area, Listen over the Internet

(Link)

OFFICE SPACE - RENTAL AVAILABLE
Special Offer ONLY $75 per/month while Space last !!!
Must Act NOW !!!
Call or reserve your office space from this month ON...until you leave at ONLY $75 per/month.
(register now)
Look Professional, Be Professional !!
Chamber Needs: (Interns & Volunteers)
Volunteers for our Next Gen Business Academy (more info)
Interns for positions below (more info)
Graphic Artist/Designer

Researcher
Project Manager
Journalist/Writer
Events Coordinator/Planner
I
nternships available at chamber NOW !!!
Chamber News:

Chamber Membership
Talk to us about the "VALUE" of being a Silicon Valley Black Chamber of Commerce member.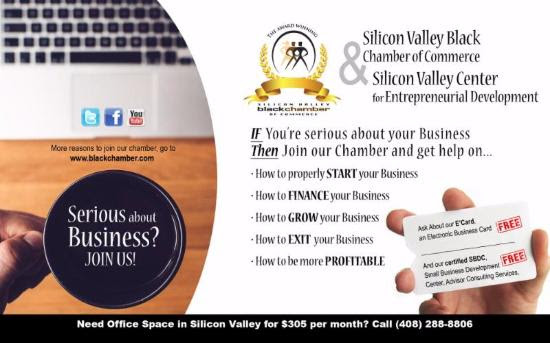 CLICK ON THE FLYER FOR TICKETS

Social Media Connects "You & Our SV Black Chamber"
Like us on Facebook

(link)

let's Go for 2,000 Likes !!!
Follow us on Twitter
(link)
See our YouTube Channel

(link)
Stay Connected with our chamber for "sponsorship" opportunities and other "value added" promotions we do for our members using social media.
Got an idea on how to promote your product or service through our chamber connections, follow us on Twitter and Facebook.
Carl Davis, Jr

President/Executive Director


Koso Ibe

408.288.8806 Office

Important Chamber Contacts

Alicia Owens

Office Management




Roni McClintockProgram Director
STAY CONNECTED
The Importance of "Staying Connected"
We believe that our newsletter helps YOU stay connected to important news and information about the San Jose and surrounding business community affairs.
We also cover issues that pertain to the Silicon Valley, state and national black community across the nation.
You can "opt" to be just on our "monthly newsletter" Group so you only get emails from the chamber once a month. But don't "opt" OUT unless you must.
Being connected is about being informed and at the end of the day, we want to spend our time and our service wisely.
Thank You for staying "connected" to our Silicon Valley Black Chamber of Commerce
**** To be placed on the Monthly Newsletter ONLY list (reply saying Please place me on Monthly Newsletter ONLY List). You will not receive other emails from the chamber during that Month !!! ******

Ready for the Next Level! Time to Move Up in Your Career! Time to Manage Your Brand for Success! If Yes, It's time for you to enroll in the six week management course for high performing corporate professionals, "Design a Bold Career!" News Courtesy of the San Francisco Chapter of the National Black MBA Association.
You are invited. Each year, hundreds of us gather as an interracial, intergenerational group of community members, students, local business owners and civic leaders, all with a shared desire to honor Dr. King, his life and his legacy. Get the details.
"We cannot just say there is a homelessness crisis and continue moving at our normal pace," said Mayor London Breed. "We need immediate action to address this public emergency, and we need to move faster to add more beds and get our unsheltered residents the services they need to help them exit homelessness. I am committed to opening 1,000 new shelter beds by 2020 to clear our nightly waitlist for shelter and bureaucracy and red tape should not delay our efforts to bring help to the people who are suffering on our streets."
Back To Archives