San Francisco Small Business Week Honorees & More
May 16, 2018

Congratulations to Our 2018 Small Business Honorees!
Every year during San Francisco Small Business Week, the Mayor's Office and the Board of Supervisors, the U.S. Small Business Administration and the San Francisco Economic Development Alliance come together to award and recognize small businesses who inspire others or exemplify excellence in their community. We would like to take a moment to congratulate all of those businesses. We hope you'll join us this week in honoring them as well as celebrating the numerous accomplishments and efforts of the thousands of other small businesses who continue to shape our communities and keep San Francisco a unique, thriving city!

Mayor Mark Farrell's 2018 Small Business Week Honorees
Auntie April's
Cassava
August Hall
Tonic Nightlife Group
Boba Guys
Gallardos Mexican Restaurant
Submarine Center
Polish Nail and Beauty Salon
Board of Supervisors 2018 Small Business Week Honorees
District 1 Supervisor Fewer: Standard Plumbing Ace Hardware, Jordan Cheng
District 2 Supervisor Stefani: Jest Jewels, Eleanor Carpenter
District 3 Supervisor Peskin: New Asia Chinese Restaurant, Hon So
District 4 Supervisor Tang: Other Avenues, Shanta Nimbark Sacharoff
District 5 Supervisor Breed: Love on Haight, Sunshine Power
District 6 Supervisor Kim: Ted's Market, Theodore Zouzounis
District 7 Supervisor Yee: Montessori Children's Center, Judith Flynn
District 8 Supervisor Sheehy: Cheese Boutique, Rick & Nada Malaouf
District 9 Supervisor Ronen: Casa Bonampak, Nancy Charraga
District 10 Supervisor Cohen: The Jazz Room, Bernadette Smith
District 11 Supervisor Safai: Little Joe's Pizzeria, Alfredo (Fred) Rodriguez

U.S. Small Business Administration
2018 Northern California Small Business Person of the Year
U.S. Small Business Administration
2018 Northern California Family-Owned Small Business of the Year
Tommaso's Italian Restaurant, Carmen Serafina Crotti
San Francisco Economic Development Alliance
2018 Microenterprise of the Year
D'Maize Restaurant and Catering, Luis Estrada and Zenaida Merlin

*Connect with us online! @sfsmallbusiness #SFSBW2018*

Follow us on Facebook and Twitter for updates, announcements and interviews with small business resources. Visit our website to learn more about the history of the week and to sign up for events once registration opens.
-----
Thank you to Bank of America for joining us as the Presenting Sponsor and Comcast Business for joining us as the InspireSF Host.

We'd also like to thank the following organizations for their sponsorships and donations that help make SF Small Business Week possible: American Express, Bar Association of SF Lawyer Referral & Information Service, Bay Area Development Company, Bi-Rite Family of Businesses, Capital Access Group, City View at Metreon, CleanPowerSF, Golden State Warriors, Google, HSBC, Office of Small Business, Pacific Gas & Electric Company, Potluck Consulting, Recology, SF Business Times, SAP, SFMTA, Sterling Bank & Trust, Straus Events, TMC Financing and U.S. Bank.

Special thanks to the 2018 SF Small Business Week Committee: Golden Gate Business Association, Golden Gate Restaurant Association, Main Street Launch, Mission Economic Development Agency, National Association of Women Business Owners, Office of Small Business, Pacific Community Ventures, Renaissance Entrepreneurship Center, SF African American Chamber of Commerce, SF Chamber of Commerce, SF Council of District Merchants Associations, Small Business Commission, Small Business Development Center, SF Economic Development Alliance, USF Gellert Family Business Resource Center and U.S. Small Business Administration.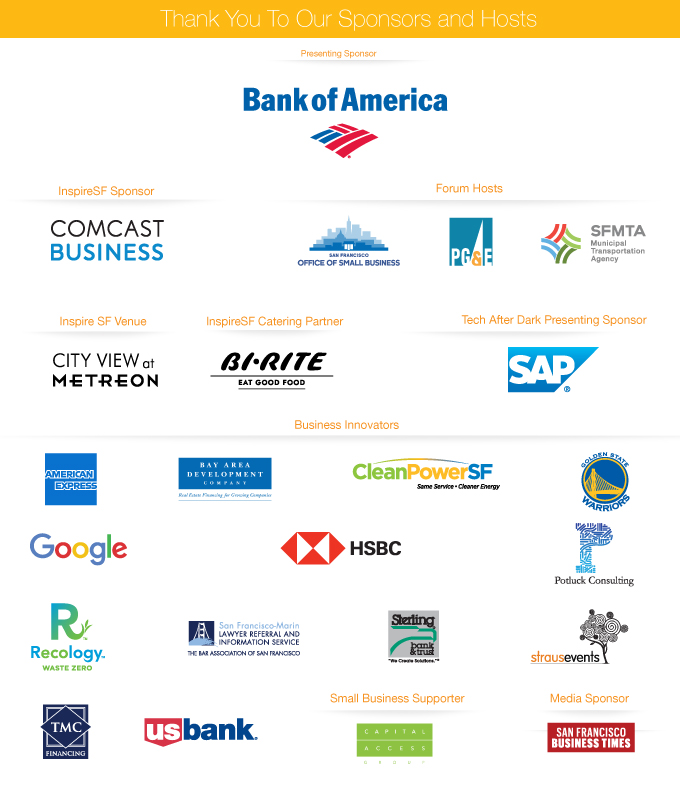 ---
San Francisco Small Business Week
901 Mission Street
Suite 105
San Francisco, California 941103
US

Read the VerticalResponse marketing policy.
---
25,000 Meals Needed! More than 1,000 volunteers expected 9/11/2018 at Pier 35 between Bay Street and North Point Street in San Francisco. Find out more and give a helping hand.
The Bay Area and the Nation mourns the loss of former U.S. Congressman Ron Dellums, who has died. T.R. Goldman of the Washington Post said of Dellums: "Ronald V. Dellums, who entered the U.S. House of Representatives in 1971 as a fiery anti-war activist from Berkeley and grew over 14 terms into a deft and respected legislator, becoming the first African-American to chair the Armed Services Committee and helping win the fight to impose economic sanctions on apartheid South Africa, died July 30. He was 82." Oakland Civil Rights Attorney and soon to announce Oakland mayoral candidate, Pamela Price gives a personal perspective for Wright Enterprises Community Spotlight.
It's the 3rd Annual Conference at Impact Hub Oakland — a community of change that supports professional and personal growth. Servant Leader Tina Brown creates opportunities for women to be empowered and inspired to make their economic dreams a reality. Read all about it.
Back To Archives